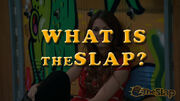 What is TheSlap.com? is is a video on TheSlap uploaded by Robbie Shapiro. The main cast and other minor characters from Season 1 describe what TheSlap is to a cameraman. The characters shown (in order of appearance) are Tori Vega, Sikowitz, Trina Vega, Cat Valentine, Robbie Shapiro, Jade West, Beck Oliver, Lane Alexander, Sinjin Van Cleef and some students who were part of Robarazzi.
Summary
The students and even some of the teachers of Hollywood Arts High School start by saying "TheSlap" several times and in different tones and voices. They later answer the question of what TheSlap is by describing it as "Fantastic" and "the" site to make connections and find out information on HA, similar to an "underground newspaper" with "clickables", games avatars, music, and pictures. The interviewees later go off in tangents such as questioning the "word" clickables and talking about lobsters and animals. They go on to describe their own slap pages. The interviewees take the name literally with Robbie, Cat, and Andre making slapping motions and Sinjin and Robbie asking the audience to slap them. The video ends with the students encouraging others to join the slap and Andre singing.
Trivia
Came out in 2010 but currently is used as a recent video as it shows fans what's its about.
the first time the camerman (who's identity is unknown) talks to the characters.
Use "clickables" as a word.
Shot some time during or after Robarazzi.
They make a possible future referance to the Dancing Lobster.
Robbie admits to being allergic to lobsters and shellfish.
Cat and Andre both sing songs about the slap by spelling it out.
Sinjin is called "Nancy".
Beck and Jade have two minor dissagreements and it is the first time Beck appoligizes on behalf of Jade.
All of the interviewies exept Beck and Jade do their interviews individually.
Video
"Sing the next line!"
This article is a stub. You can help the Victorious Wiki By expanding it.