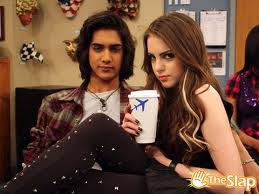 This couple are very very Complicated to each other.Even they are in a Relaitionship they cant handle it.
Jade West:
She is the type of a girlfriend that is edgy but i think that Beck can calm Jade or make her stop from her dark plans for Tori.Jade wants to be the leader so she wants to have all she wants but Beck Is a goooood follower.
Beck Oliver:
He is the type of Boyfriend that is down-to earth and gentleman.He always
like Jade when Jade is nice to everyone but i think
Beck can count the times that Jade is nice. Beck is very gentleman to the girls so
Jade is always jealous.
Bade:
Other people think that Bade is a bad relaitionship,but its actually not because think about it!.They are
almost 4 years in a relaitionship but they are still strong.They are strong because everyone help to
have or find a solution when Bade has a problem.So they are very thankful To their friends but Jade will not thank Tori. Im sure with that.