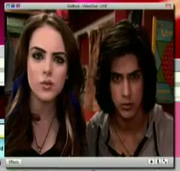 About Me
Hi, I'm gabby (thats where the yo gabba gabba comes from cuz my friends call me that and 18 cuz thats my fav number) I'm 13 and I luuuuvvvvv victorious. I'm a bade shipper but I hate getting into fights about ships. Aside from victorious I also love, glee, pretty little liars, iCarly, Justin Bieber, Taylor Lautner, and Taylor Swift. The main things I do with my free time are act, sing, play field hockey, play softball, horse back ride, play piano, and play volleyball. If you would ask me which character I'm most like I would have to say a cross between Jade, Cat, and Trina. Jade cuz i'm tough somewhat dark (not goth or anything) and if you try to say something the slightest bit offensive i can be the biggest meanest b**** on Earth. Cat cuz i'm really random and funny. Trina cuz i do like attention (I'm not as bratty as her though). Trina's the kind of person I wish I was cuz she's so conceited and gets away with it and doesn't care what others think. Well, thats a little bit about me, bye!!!!!!!Yogabbagabba18 12:37, April 25, 2011 (UTC)yogabbagabba18
What I Ship
I ship Bade, Seddie, and Tandre.
Bade cuz they look sooo good together. They love each other and opposites attract. They are a real couple that have been dating for a long time. They're the kind of couple where they can't stand to be away from each other for more than like 5 minutes. They really care about each other and like to make each other happy. Plus, they're one of the only couples on TV where the cutest boy (Beck in this case) isn't with the main character (Tori in this case), he's with another character (Jade in this case). However, this could change and that would suck and I would never watch Victorious again. Tee Hee!!!!
I know Seddie' s not part of Victorious but I thought I should just put it in. Once again, opposites attract and the main character's not getting everything. There's a fine line between love and hate which I think sums up this relationship and it's cool how they can go from hating to loving each other (if this happens in iOMG part 2)
Tandre cuz (as mean as this is) with Tori out of the way there's more chance for Bade to survive. Plus I think Tori and Andre do have slight crushes on each other.
Hopes For Future Episodes
Jade sings more (she's soooooo good)
Cat sings more (she's soooooo good)
Episodes I Love
Jade Dumps Beck-Amazing Bade moments
Pilot-Love the alphebetical (sorry can't spell) improv scenes (sooo funny)
The Diddley Bops-some nice Bade moments, broken glass is hilarious, cat and trina=sooooo funny
Wok Star-Mrs. Lee=hilarious
Sleepover at Sikowitz-love beck's british accent, cat's really funny, the whole fact that jade has to play a nice person is hilarious
A Film By Dale Squieres-love their movie
Episodes I Hate
Beck Falls For Tori-kinda pointless and stupid
Tori The Zombie-other than Cat and Trina's rap it wasn't funny, there was no bade, barely any jade, almost no beck
The Wood-I think it should've been the producers deny cutting the two phone conversations together, that would've been a much more interesting plot line
All Other Episodes I Don't Love Or Hate They're Just O.K.
My favorite pages