HEY!
I'm Rachel, but everyone calls me Rachie.
I have 5 (I think) Wikia accounts
iCarly Wiki
Phineas and Ferb Wiki
Phineas and Ferb FANON Wiki
Avatar: The Last Airbender Wiki
And THIS ONE THAT YOU ARE VEIWING! :D
I go by the same username on ALL my wiki's so, plz check out my pages!
I LOVE Victorious. Alot :D
Now, here is what i ship!!!
I ship CADE because
Cade is my OPT for VicTORiOUS :D
Did you hear them sing "Give It Up" together? TRUE EPIC AWESOMENESS :D
They have AMAZING chemestry!
I ship CORI because
They are SO cute together!
They are great friends in the show and have GREAT chemestry, just like Cat and Jade :D
I ship JORI because:
It's just.....no....cute isn't the word.....it's unexpected! :)
It's a love/hate relantionship! I love those!
I KIND OF ship BADE because:
It's kinda cute (I normally ship femslash, but Bade is nice)
Soooooo....that's probably it.......
PEACE AND LOVE!
__________________________________________________________________________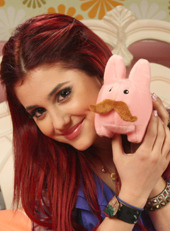 ___________________
~Rachel
| | |
| --- | --- |
| | This user ships Cade! |
| | |
| --- | --- |
| | This user ships Jori! |
| | |
| --- | --- |
| | This user ships Cabbie! |
| | |
| --- | --- |
| | But the most surprising part of the play happened at the end when the monster gauged out Priscilla's eyes which for whatever reason this user found really funny. |
| | |
| --- | --- |
| | This user ships Bade!!! |
| | |
| --- | --- |
| | This User Clicked On Rainbow!!! WHOOO!!! HAHAHAHA!!! |
&nbsp
| | |
| --- | --- |
| | This user likes Jade!!! |
| | |
| --- | --- |
| | This user is a HUGE fan of Cat!!! |
| | |
| --- | --- |
| | ♥This user said AWW out loud when Beck said he never stopped loving Jade!!!!♥ |
| | |
| --- | --- |
| | This user is on Speaker, Trina is Also in the Car. |
| | |
| --- | --- |
| | YOU SMELL SO *FRUITY*! |
| | |
| --- | --- |
| | This user ships Cade!!! |
| | |
| --- | --- |
| | This user ships Cori!!! |
| | |
| --- | --- |
| | This user ships Jori!!! |
| | |
| --- | --- |
| | This user loves Cori, Cade, and Jori!! |
| | |
| --- | --- |
| | This user says hi! |
| | |
| --- | --- |
| | This user SCREAMS words that begin with the letter "s." SO go tell SASQUATCH to eat SALMON and SOUP with a SPOON! |