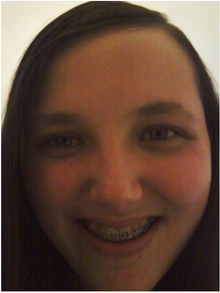 When they tell you not to talk, start screaming. If they say you should give up, keep dreaming.
My favorite color, food, and animal is purple, lemon squares, and platypuses (Doo-bee-doo-bee-doo-wah-doo-bee-doo-bee-doo-wah! AGENT P! Yeah. I love Phineas and Ferb. Don't judge! :D). My favorite TV show is Degrassi. If you're Canadian, English, or Australlian, I automatically love you. It's because of your accents. Procrastination...it's my life. I laugh too much. I love to sing too much and it can get on people's nerves, even the people who say they like my voice. I have the attention span of a five-and-a-half year old. Some people say I'm weird...I say I'm just "special". :D
Uhhhh...more pointless information that I know you don't care about and that I'm only putting here because I don't know what else I should put on my profile so yeah I should just stop talking:
Name: Ashley (But don't EVER call me Ash! My parents call me that to make fun of the fact that I watched Pokemon when I was little. I hate it. )
Fave Season: Summer
Fave Instrument: ukelele (I can't play it, but it's awesome)
Fave Coloring Untensil: sharpie markers
Fave Toe: the one next to my big toe on my left foot
Fave Finger: Psht...favorite finger? Who has a favorite finger? That's just weird...index finger, left hand
Fave Lamp: lavalamp or Ryan Higa's lamp
Fave Chair: beanbag
Fave Scent: Raspberry Vanilla
Fave Ice Cream Flavor: Party Cake
Fave Cake Type: Ice Cream or Cheese
Fave Pie: Lemon or Raspberry or Coconut
Fave Drug: Charlie Sheen (haha just kidding drugs are for winners...so not me)
Fave Tea: Chai or Iced
Fave Vegetable: Soybeans or Corn
Fave Subject: Social Studies or Science...unless lunch is an option...
Fave Song(s) of the Moment: "My Immortal" by Evanescence and "Like We Used To" by Rocket to the Moon
Fave Artists: Katy Perry, Taylor Swift, Bruno Mars, Jake Epstein, The Script, The Fray, Nickelback, All-American Rejects, Adele, Vanessa Carlton, Action Item, The Morning Light, Rocket to the Moon, Evanescence, Train, Maroon 5, Adam Lambert, Lady Antebellum, Black Eyed Peas, Rascal Flatts, Avril Lavigne, Paramore, Cascada, Sixpence None the Richer, The Latency, Lady Gaga, Victoria Justice (songs from Victorious...they're just so catchy), The Beatles, Glee (if that counts), John Mayer, Rihanna, and a bunch of others.
Book series that I have read and liked: Twilight series (even though I realize now how screwed up Bella is), Hunger Games, Percy Jackson and the Olympians, Warriors (I stopped reading them because I thought I was too old, but I still liked them), Guardians of Ga'Hoole (same as Warriors...never finished), and some other things that I don't feel like listing.
Fave Day: Easter (chocolate, but you don't have to walk around to get it like you do on Halloween. Haha I'm so lazy.)
Fave English Words: bubbles or jambalaya or antidisestablishmentarianism or comeuppance or irksome or tenterhooks
Words I Hate: awning, volcano (long story)
Fave Spanish Word: aguacate or burbuja
Fave German Word: buzenhelter
Fave Swedish Word: tik haha just kidding (Sorry if you're Swedish and like, SO offended)
Fave Turkish Word: bakana
Fave Japanese Word: bao-bao (long story)
Gosh...I hate abbreviating things and the word "fave" but I'm using it because I'm so lazy.
Things I hate: school, scary movies, cursing (even though I sometimes use them in my stories if necessary), SCHOOL, carrots, ...did I mention school?
Other things I lurve: fuzzy socks, naps, comedies, bean bag chairs, knock knock jokes...
Thirty-Five Random Fun Facts About Me:
1. I don't trust people. Period. Especially if they're people like me. So I keep things to myself.
2. I cherish what little innocence I have left. Emphasis on little.
3. I do well in school even though I'm not very bright.
4. Half of my friends are obsessed with Asians (I'm not trying to be racist at all...but I'm absolutely serious) and the other half are obsessed with Taylor Swift. But they all have their insanity in common.
5. My older sister doesn't like to wear pants around the house...even when there are guests over. And my little sister is prone to taking off her shirt in front of the window (like a female Gibby). And they like to dance to "Mama Mia" together. As you can guess, I have been disturbed in many ways.
6. I take too long to brush my teeth and wash my face because I actually count how long I do it.
7. I don't wear make-up unless I'm in a play or a musical. I don't paint my nails, either.
8. If you ask me, "What is this?", my most likely response is, "It's my crack, so give it back!"
9. I hate being completely alone (especially at night).
10. I love to make people laugh, but I'm not funny. Especially not in person.
11. I'm extremely paranoid. Once I saw a bump on my arm and I didn't know how it got there and I spent the whole day thinking I had cancer.
12. I have a cat named Lily. She's morbidly obese. My friend said she ate a stick once. My sister hid her in her closet for three days before admitting to adopting her to my parents.
13. I have an unhealthy obsession with Canadians.
14. I don't cry over books or movies. Except once when I saw "Marley and Me".
15. My childhood is such an embarassment that I kinda wanna move. But I like my neighborhood because everybody knows each other.
16. I've given up on young adult fiction novels and most rap music. But not Eclare. We must never give up on Eclare!!!
17. I hate horror movies, but I do want to see film where the main character dies. Have they made a movie about Anne Frank yet?
18. I don't plan on having children. I have my reasons.
19. My hair is straight and brown. In really bright sunlight, some strands look red.
20. My eyes are blue, but my friend says that they look green sometimes. I have glasses, but I hardly ever wear them. I'm really bad at judging the color of the eyes of other people.
21. My parents think I spend too much time on the computer. They're probably right.
22. My favorite song when I was little was "Kiss Me" by Sixpence None the Richer.
23. I've always wanted to be a famous singer. I've pretty much given up on this dream, but I'm still auditioning for American Idol next year.
24. I speak random spanish. Not because of Freddie from iCarly. Because it makes things less boring. And I'm always slightly amazed when I realize that I can understand someone else's language (somewhat).
25. I'm prone to having one-sided love-hate relationships. (not like Seddie...though I wish it was that way...*sobs*)
26. I always tell myself that I'm going to fail tests so that I'm happier if I don't.
27. My handwriting is awful. I want it to be better, but...that's life.
28. I don't hide my craziness. I flaunt it.
29. My self-esteem is super low. I blame my sister.
30. I have braces. They're purple. One more year to go...
31. I have recently become addicted to iced tea, gummies, avacado, soymilk, and nutella. Don't ask...
32. I used to play basketball when I was little. But I only made one basket per season. So I stopped.
33. I would die without the internet. I'm not joking at all.
34. I'm attempting to learn sign language.
35. I used to have a brown and white hamster named Cookie. He got sick, so my mom took him to Petco to die.