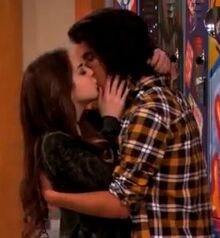 Hi! I'm mostly here to fix punctuation, spelling, grammar, etc on this wiki, as well as to add some useless information gathered from obsessive watching onto pages. My favorite pages to edit are Pairings and Galleries, as well as Trivia.
Some things about me:
I am a blonde. I am the oldest of a group of triplets (all girls, me and one are identical, the other is fraternal). I am a Christian (the loving kind). I believe in LGBT rights. I do not swear, drink, do drugs, etc. I eat meat. I love Avatar the Last Airbender, Supernatural, Bones, House, NCIS, Fade/Wake/Gone, Peter Pan and Jane Austen novels. I ADORE Victorious (mostly because I loved Liz Gillies before that and even more now).
I love to read fanfiction, but only if it's well written and it's in character.
I ship Bade. I'm on the fence on the other pairings, but I'm leaning towards Tandre and Cabbie.
Other ships (in case you care): Kataang, Sukka, Maiko (Avatar the Last Airbender) BB, Hodgela (Bones) Huddy, Chameron, Foreteen (House, MD) Tiva, Jibbs (NCIS) RobStar, Flinx, BBRae (Teen Titans) PeterXWendy (Peter Pan) Yulrich, Jerlita (Code Lyoko) Gwevin (Ben 10) RonXHermione, TonksXLupin (Harry Potter) Jabel (Wake, Fade, Gone) SanXAshitaka (Princess Mononoke) Tamaruhi (OHSHC) DaisukeXRiku (D.N. Angel) DaichiXNajika (Kitchen Princess)
I am fortunate to be an actress in an award-winning theater department and a member of the National Thespian Honor Society. I've done six plays with them so far (Othello, Beauty and the Beast, Man of La Mancha, Phantom of the Opera, all ensemble, Alice In Wonderland as the Queen of Hearts/assistant stage manager and Noises Off as crew/assistant stage manager) and I'm gearing up for Fiddler on the Roof (as ensemble and Assistant Stage Maager). Before I joined them, I rewrote a play for my school (had to add in more characters, cut dialogue) and wrote and directed a short spoof of Titanic. :) I've played half of the evil stepsisters with my real-life sister (the identical one), Augustus Gloop's Mother, etc. My character specialties are children and elderly women. I hope to eventually make my film or TV debut either as an actress or a screenwriter.
I love to sing, even if I am not good at it (I hopefully add the word 'yet'). I like all types except for hip-hop/rap. (Pop, country/country-pop, rock/pop-rock, contemporary christian/gospel, some mo-town, show tunes, R&B, and a little bit of death metal-gothic stuff.) Some of my favorites are Kelly Clarkson, Nickelback, Pink, Evanescence, Parachute, Rob Thomas, Creed, Lifehouse, Avril Lavigne, Maroon 5, Shinedown, songs from Next to Normal, The Lion King and 13 the Musical, etc.
That's me!
My favorite pages
Edit
Bade
Jade West
Elizabeth Egan Gillies