This is your user page. Please edit this page to tell the community about yourself!
Cat Valentine- Look,I'm going to make this extremely, and utterly clear, Cat is not a jerk. Cat is not mean. She's a sensitive child. And if you are hating on her because of "The Blonde Squad," that is just wrong. She had just had her heart broken by a boy she had really taken a liking to. She is not simply going to make out with Robbie right there and then, come on. You don't just move on to a new boy right after he dumps you. I love Cat, she's funny, cheerful, kind, and plain adorable. Leave Cat Alone!
Jade West- I honestly love Jade West, her character is beyond hilarious, and who doesn't like a little meanness?
Robbie Shapiro- Another one. Ok, so he's sweet, nerdy, and nice at times. However, I honestly can't help but think about how he hides behind Rex, and uses him to lash out whenever he wants to, even to his loved ones. It just makes me think of him as a coward. I'm sorry. I love him and his music, but Rex is just bad for him.
Tori Vega- I don't understand why people are mean to her character. She is sweet, charming, and overall a good person. Sure she has her moments but so does every character on here. Tori is beautiful, any hate should be left behind.
Now as for Beck, Trina, and Andre. I do not hate these characters. I just pay more attention to the characters above, I love all the characters.. Even Sinjin!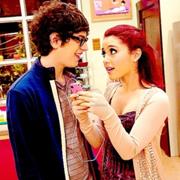 Cabbie!!!!
Tandre
Jandre
Bade
Bori
Bat
Candre
Wow.. so a lot of ships that usually go against each other.. (Yeah you guys can get pretty scary especially with Bade and Bori.. I think theyre both cute.)