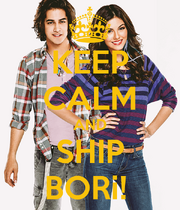 Hi Peeps. I ship Bori!
My friends know so if i ask for something i just say (pretty please with a Beri on top) My Fave colour is Purple because its so calm and powerful at the same time! It Might be the Bori colour its either blue or purple!
i LOVE Beck(he's so hot;)

Andre(Amazing voice

Robbie(Love the way he plays the guitar and his sidekick Rex:)

And Sinjin(JUST SO WIERD O_O)

Added by

WeNeedLove

Tori(Shes so nice and pretty)

Trina( A selfish self-centered yet caring sister (i think!) )

Cat(So

random and funny)

Jade(Love her especially her negativity)
♥BORi♥
Cabbie
Maybe Jandre.
Trinjin together would be hilarious

Beck Oliver and Tori Vega <3

Added by

TwinkleBori
ALL OF THE EPISODES!!!!!!!!