About me:
Edit
Hey! I'm a big BADE fan as you can notice and I love making videos for them! If you guys are interested I posted them here in my page :D
What I ship:
Edit
1- BADE: Ok, this one is my OTP! I love them very very much. They have amazing chemistry and history together. I see them (no kidding) as a perfect couple even though they fight a lot (but that's what makes them even more interesting to me).
2- Elavan: I guess it's normal when we ship actors too, right? I ship these too but not like I ship Bade. Still they are very sweet together.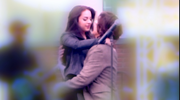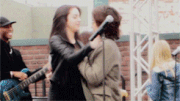 3-Cade: BFFs. I guess it's funny how Cat and Jade can be best friends even though they have opposite personalities. They're lovely to me.
4- Jori: I like their interaction and think they could be very good friends. It's so obvious how they like each other but then comes PRIDE (mainly Jade's) to screw all up :/ But now they're starting to get along and this makes me very happy! Loved the "tickle scene" in "April Fools Blank" and "Take a Hint" was OMG.
5- Reck: Love how Beck and Robbie can actually be good friends. Or almost that. I guess Robbie has a crush on Beck or maybe it's just a very deep admiration.
6- Avatt: Good friends and I might like that only because I like Reck too.
7- Vavan: They're BFFs and I think their friendship is very sweet even though I dislike Bori (even the friendship).
8- Eliana: So cute as friends.
9- Tandre: They are good friends and I like that but far from being my favorite ship.
10- Jandré: I ship them a little, gotta confess. But Bade will always be my number 1 :)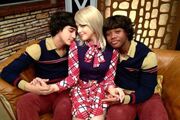 Favorite Characters:
Edit
1- Jade West: I love her. She's pretty, mean, great actress/director/writer/singer and she's played by Liz Gillies! Jade West can be a bitch but she's got style.
2- Beck Oliver: I'm in love with him. He's like perfect... I mean even his flaws are perfect. Jade's a lucky girl.
3-Cat Valentine: Awesomely random and a great singer. This girl can make me laugh often.
4- Rex Powers: He's a genious. You gotta love this puppet! He's a freaking genious. I love almost everything he says.
5- Erwin Sikowitz: Another genious. Don't have anything else to say besides he's the SIKOWITZ.
6- Robbie Shapiro: I like Robbie because, despite he makes me laugh often, he kinda is Rex, right?
7- Tori Vega: Gained a lot of respect after Tori Goes Platinum. A true friend after this one. Tori I respect you.
8- André: It's not a character that I like or dislike. I don't have any kind of feeling for him but I love his songs.
PS.: I really HATE Trina Vega. I almost want her to die (nothing against Daniella though).
Favorite Episodes (not in order):Edit
1- Jade Dumps Beck: First episode of Victorious I've ever seen, episode which made me fall in love with BADE. Enough said :)
2- Robbarazzi: It was so funny to see Robbie being "popular" for a change ;). I loved how he exposed all his friends on The Slap (I feel mean but it was indeed funny and he got what he deserved in the end). Other funny thing is when he became "popular" Rex suddenly vanished :O
3- Wi-Fin In The Sky: Tori wanted to do the homework and nobody was taking it seriously. Loved the child kicking Trina's seat. Loved the Perez :D
4- The Great Ping-Pong Scam: The flashbacks were awesome. Bade moment in the restaurant was sooo cuuute. Robbie being Robbie was epic too. I loved the whole episode.
5- Wok Star: I liked to know more about Jade. It showed us a very good reason for her to be the way she is.
6- Beck Falls For Tori: Loved seeing Beck dressed as a girl, sorry.
7- Prom Wrecker: This one is a mix of feelings actually. I can't explain it but I liked the episode while I have strong reasons to really dislike it. Here it goes the reasons: the fact that Jade's play was called off because of a prom Tori ramdomly came up with. And there is a huge mistake in this episode: It said HA never had a prom before but in Pilot Cat said she didn't have a date for a prom hosted in HA the year before.
8- Helen Back Again: I loved the auditions. Mainly Jade's, the way Sikowitz left screaming terrified was epic.
9- Who Did It To Trina: I only like this episode because of its ending. Seriously, it was a huge catch to me.
10- Tori Tortures Teacher: Bade subplot and... SIKOWITZ :)
11- Jade Gets Crushed: Loved André's crush on Jade, really wanted Dan to give us more Bendrade, it would be nice if Beck found it out. And I liked the Bade interaction on this one. The clapping hands together scene while André was performing was so cute. I loved "365 days" too :)
12- The Breakfast Bunch: A PERFECT parody to "Breakfast Club" movie, which I love.
13- The Worst Couple: Even though my favorite couple broke up on this one, I loved to see a bit of Drama. Well, the episode made me cry I have to give it credit ;)
14- Tori & Jade's Playdate: TAKE A HINT! Enough said.
15- How Trina Got In: Finally we had a good episode after a while! Loved the tall tales about how Trina got in. Sikowitz version was the best one though :P
16- Crazy Ponnie: I liked that everyone thought Tori was going nuts and the ending with Ponnie driving the police car, awesome.
Episodes I dislike or maybe hate (again not in order):
Edit
1- Tori The Zombie: Bori interacted too much (I know this isn't exactly a reason to dislike a episode but believe me when I say ships count too much in rating an episode for a fan) (DISLIKE)
2- Tori Gets Stuck: Tori again in leading part. Why Jade had to be her rebound? Seriously! Ok, when Tori get a main character now and then but why does it have to happen in all plays they audition to? She's not better than Jade or Cat. (HATE)
3- The Gorilla Club: Just like "Tori The Zombie", too much Bori. Although I liked the HAMMER DANCE. (DISLIKE)
4- Car, Rain, and Fire: Brina? Seriously? I saw no point Beck kissing Trina in the theater. And Catorade's plot wasn't that good. (HATE)
5- April Fools Blank: At first I hated it then I disliked it only. I was waiting for an awesome 70s episode and well... It was way too random and everything mixed up. Disliked it even lthough I loved "Shut Up And Dance" (DISLIKE)
My Bade Gallery:Edit