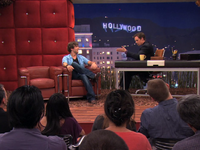 Up Late with Mack Murphy is a late-night talk show hosted by Mack Murphy. It is shown in the episode A Film by Dale Squires. Dale Squires appeared as a guest for one of the shows. Tori, André, Jade, and Cat attended the show to get revenge on Squires for not crediting the students for their work on his short film. They hired André's cousin, Kendra, to get revenge. During the show, however, he gave credit to the students, and Kendra was not stopped in time, so she went ballistic on him anyway.
This could possibly be a parody of Late Night with Jimmy Fallon.
Gallery
"Sing the next line!"
This article is a stub. You can help the Victorious Wiki By expanding it.
Ad blocker interference detected!
Wikia is a free-to-use site that makes money from advertising. We have a modified experience for viewers using ad blockers

Wikia is not accessible if you've made further modifications. Remove the custom ad blocker rule(s) and the page will load as expected.