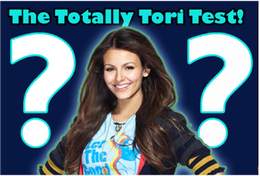 The Totally Tori Test is a trivia game on TheSlap.com.The game consists of 10 questions about Tori, some including questions about her friends and family. Each questions has 2-4 answer choices. The player has 30 seconds to answer each question and they are scored out of a total of 10 points at the end of the game.
Click here to play!

Click here if you live outside the US!
"Sing the next line!"
This article is a stub. You can help the Victorious Wiki By expanding it.
Ad blocker interference detected!
Wikia is a free-to-use site that makes money from advertising. We have a modified experience for viewers using ad blockers

Wikia is not accessible if you've made further modifications. Remove the custom ad blocker rule(s) and the page will load as expected.