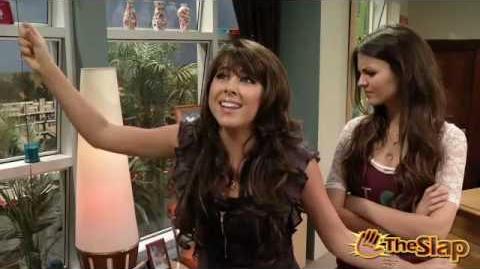 Tori's Profile Video starts off with Tori introducing herself, but then Trina (who is taping the video) interrupts her saying she has to fix her shirt. Shortly after, while Tori is speaking about the showcase and mentions Trina, Trina turns the camera on herself and tries to talk about herself instead. When Tori turns the camera back on her, Trina interrupts again, but Tori turns it back on her and tries to tell Trina to "quit butting in". Again, Trina turns the camera on her and starts to sing Make It Shine. Tori walks over the other side and complains a bit but still waits until Trina stops singing. Tori tells Trina she was off key, and Trina denies it however then doubts herself. Trina tells Tori that she doesn't want her to put the video on TheSlap, and Tori tells Trina that she will but then says she was joking and reassures Trina that she won't put it on TheSlap but smirks cheekily.
Ad blocker interference detected!
Wikia is a free-to-use site that makes money from advertising. We have a modified experience for viewers using ad blockers

Wikia is not accessible if you've made further modifications. Remove the custom ad blocker rule(s) and the page will load as expected.