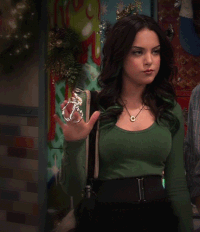 The Scissoring
is one of
Jade
's favorite movies. The movie is about a girl (
Tawny Walkerblack
¹) who comes back from the dead and uses a pair of scissors on her two best friends, starting with the pretty girl, according to
Jade
. The movie was filmed in a house in Los Angeles, as stated by Jade and
Moose
in
Three Girls and a Moose
. The real film was filmed in west London.
She got the scissors used in the actual movie from Cat, who was her Secret Santa, in A Christmas Tori, for which she seemed to be extremely grateful.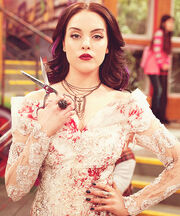 The movie is mentioned again in Three Girls and a Moose. Jade says that she loves the movie more than she loves her mother. Moose said that it is his favorite scary movie, so Jade wears a dress from the movie to impress him.
It is mentioned once again in Brain Squeezers.
The name of the movie is an Innuendo.
¹ - While this has not been confirmed to be the name of the main character in the movie, Jade does reference the character by name in the episode Three Girls and a Moose, and thus it is likely that that is the character's name.
"Sing the next line!"
This article is a stub. You can help the Victorious Wiki By expanding it.
Ad blocker interference detected!
Wikia is a free-to-use site that makes money from advertising. We have a modified experience for viewers using ad blockers

Wikia is not accessible if you've made further modifications. Remove the custom ad blocker rule(s) and the page will load as expected.