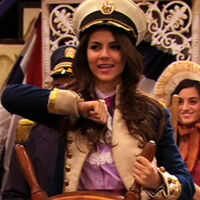 The Captain is She is a song sung in the play Steamboat Suzy in the episode Tori Gets Stuck. Tori sang it as the lead in the play. During the play, she was very weak after having to give three pints of blood for Robbie, and she fainted while singing it. Sikowitz dressed up as Tori and sang the remainder of the song for her, because he thought that Jade - Tori's understudy - did not deserve the role for her bad behavior.
Lyrics
Original Lyrics
Now men will always tell you how they do it all
While women do the work you never see
But so as it would happen
You're in great need of a captain, oh
A captain and that captain is me
And so as it would happen
We're in great need of a captain
Well a captain yes a captain is she
Lyrics when Tori is Dizzy
Men will always la la la la la la la
when women la la la la la la le
and so as it would happen,
I'm a pretty little salmon.
"Sing the next line!"
This article is a stub. You can help the Victorious Wiki By expanding it.
Ad blocker interference detected!
Wikia is a free-to-use site that makes money from advertising. We have a modified experience for viewers using ad blockers

Wikia is not accessible if you've made further modifications. Remove the custom ad blocker rule(s) and the page will load as expected.