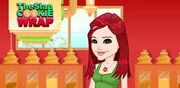 TheSlap Cookie Wrap is a game on TheSlap.com.
In the game, you have to help Cat Valentine wrap up cookies for the Holiday Showcase. You must set out a plate, place a cookie on it, spread on some frosting, and wrap the whole thing up with a bow. If you don't do it in time, the game is over and Cat "is even more confused than before!" Each level gets more complicated; different plates, cookies, frosting, and bows are added as you progress.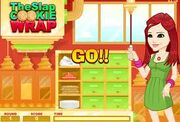 On TheSlap, Cat posts that she's been "animated" and that everyone should play the game.
Click here to play the game.
"Sing the next line!"
This article is a stub. You can help the Victorious Wiki By expanding it.
Ad blocker interference detected!
Wikia is a free-to-use site that makes money from advertising. We have a modified experience for viewers using ad blockers

Wikia is not accessible if you've made further modifications. Remove the custom ad blocker rule(s) and the page will load as expected.