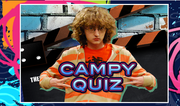 TheSlap's Campy Quiz is a quiz about which camp you should go to and with which Hollywood Art-er.
Questions
1. What's the first thing you do when you wake up?
Choices:
Sing in the shower
Check yourself in the mirror
Check your phone for texts
2. When you're waiting at the doctor's office, you...
Choices:
Read a tabloid
Listen to Headphones
Play a game on your phone
3. Your favorite subject in school is...
Choices:
4. What's your favorite kind of movie?
Choices:
Romantic Comedy
Musical
Action - Adventure
5. What's your favorite kind of music?
Choices:
Rock
Show Tunes
I don't really like music
6. What do you love to wear?
Choices:
Jeans and Tee Shirt
Fancy Clothes
Leather
7. If you could live in any city, which of these would you pick?
Choices:
Nashville, Tennessee
Los Angeles, California
Seattle, Washington
8. What kind of hairstyle would you rock if you could choose any of these?
Choices:
Whatever
A Mohawk
Long Extensions
9. Which of these people do you consider your idol?
Choices:
Lady Gaga
Johny Depp
Shaun White
10. Which of these would you want as your ride?
Choices:
Skateboard
Sports Car
Limo
Awnsers you can get:
Video Game Camp Action and adventure is your thang! So it looks like you'll be hanging with Sinjin at Video Game Camp this summer. Hey, it's better than rooming with his weird friend Burf.
Drama CampLife bores you, so you have to add some drama to it once and awhile. You and Beck will have a great time at Drama Camp. Maybe he'll even let you borrow his hair gel.
"Sing the next line!"
This article is a stub. You can help the Victorious Wiki By expanding it.
Ad blocker interference detected!
Wikia is a free-to-use site that makes money from advertising. We have a modified experience for viewers using ad blockers

Wikia is not accessible if you've made further modifications. Remove the custom ad blocker rule(s) and the page will load as expected.