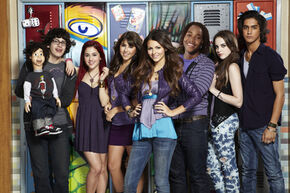 Students at Hollywood Arts are the students in the school of Hollywood Arts High School. They all have auditioned to be in the school and re-auditioned for Helen Dubois in Helen Back Again.
Students
Seniors (Class of 2012-13)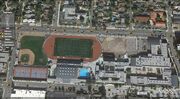 Juniors (Class of 2013-14)
Fawn Liebowitz (Former) 
Darren 
Jess 
Gary Lewis 
Alison Craig
Ed Caray
Ashley
Christine 
Sadie 
Jessica Baxter 
Freshmen (Class of 2015-16) 
Failed
Trina Vega (But was accepted back in despite her awful performance).
Unknown Grade 
Mark McCallan 
Fran Reynolds 
Jessica Wolfe 
Shawn's Unnamed Girlfriend 
Randy Bronson 
Elise 
Brayden 
Posey
Other Unnamed Students (Grades 9-12) 
Ad blocker interference detected!
Wikia is a free-to-use site that makes money from advertising. We have a modified experience for viewers using ad blockers

Wikia is not accessible if you've made further modifications. Remove the custom ad blocker rule(s) and the page will load as expected.