Sam & Cat



Genre

Teen Sitcom

Created By

Main Cast

Jennette McCurdy
Ariana Grande
Cameron Ocasio
Maree Cheatham

Opening Theme

Just Fine

Country of Origin

United States

Executive Producer

Dan Schneider

Producers

Robin Wiener (supervising producer)
Joe Catania
Bruce Rand Berman

Setting

Nickelodeon on Sunset

Original Run

June 8, 2013 - Future

Official Website
For the Wiki Based On This Article Click Here

Sam & Cat is an American teen sitcom created by Dan Schneider for Nickelodeon. It is a crossover spin-off of the shows, iCarly and Victorious.
The series was picked up for a 20 episode season on November 29, 2012. Production began on January 28, 2013.[1]
The first episode aired on June 8th.[2]
Plot
Feisty Sam Puckett and daffy Cat Valentine become best buddies and unlikely roommates. They love their freedom and independence but quickly realize that fun and adventure don't come cheap. Rather than get traditional after-school jobs, Sam and Cat become teen entrepreneurs by starting their own babysitting business.[3]
Cast
Main characters
Cameron Ocasio as Dice
Maree Cheatham as Nona
Guest stars
Sophia Grace and Rosie
GloZell Green
Trivia
Ariana tweeted [4] "Can't thank @DanWarp @JennetteMcCurdy and @NickelodeonTV enough 4 this opportunity.. I'm so excited about this show I could cry. #SamAndCat"
This is the first crossover series that has been created by Dan Schneider and Nickelodeon.
This is also the first spin-off series not related to All That (Kenan & Kel, The Amanda Show), as iCarly, Drake & Josh, Zoey 101, and Victorious were all new series not based off each other.
Once this show was announced, people thought it was the reason for the ending of Victorious, so people started to hate on Ariana Grande and Jennette McCurdy, but Dan Schneider himself stated otherwise. [5]
So far, Sam and Cat and Victorious are the only Dan Schneider shows to be filmed completely at Nick on Sunset. iCarly was filmed there seasons 1-5 and consisted of 7 seasons, Drake and Josh was only filmed there seasons 1,2 and 4, All That was only filmed there seasons 3-10 and Zoey 101 wasn't filmed there at all.
Elizabeth Gillies and Matt Bennett will be returning in a one hour special as their Victorious-characters Jade West and Robbie Shapiro respectively.[6]
Video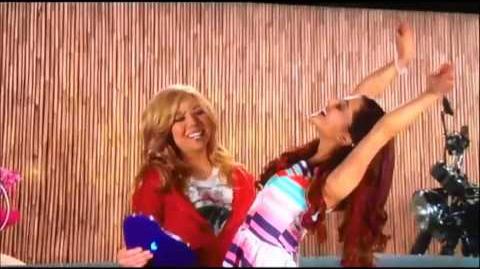 References
External Links