Rodreck



Shipped Characters

Ship Type

Tri-Pairing

Ship Status

Close Friends
Rodreck is the tri-pairing friendship between Robbie Shapiro, André Harris, and Beck Oliver (Ro/bbie, An/dr/é, B/eck), the main—male—characters on Victorious. Rodreck can also be referred to as Bendrobbie (Be/ck, A/ndr/é, R/obbie).
For the individual pairings, see Rodré, Reck, and Bendré.
The tri-pairing's female counterpart is Catorade, the friendship between Cat Valentine, Tori Vega, and Jade West (Ca/t, Tor/i, J/ade).
Rodreck Moments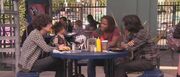 Season 1
All of them sit at the same table for lunch.
They all have a conversation about ballet.
André and Beck steal Robbie's clothes, which makes Robbie upset.
All of them are forced to stay at the Vega's to take care of Trina after Jade takes Beck's car keys.
Beck and André save Robbie from being choked.
They all try to untie Trina.
They fight over who has to massage Trina's gums.
They all go to Tori's house together.
Beck and Robbie try to cheer up André when he loses his record label.
Season 2
Beck and André restrain Tori, so that she can't attack Robbie.
Beck, Andre and Robbie help search for the letters.
André and Beck want Robbie to sleep in the bathtub.
Robbie is supposed to be with the boys in the hotel.
Robbie is mad that he can't stay with Andre and Beck whilst in prison.
Robbie gets upset when Tori says that Beck and André should go for help without him.
Season 3
Beck, Robbie, and André all dance excitedly and stand together during the girls' performance.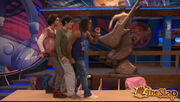 The three boys are seen dancing in unison while standing very close to one another.
Beck and Robbie cheer André on as he dances.
Beck and André straighten Robbie's hair.
When Robbie asks why they are being so nice to him, Beck says, "Because you're letting us."
André, Beck, and Robbie pretend to fight over Trina to teach her a lesson about lying and spreading rumors

about dating people.
When Robbie comes in with the flowers for Trina, André says that the flowers better be for Beck.
André and Robbie help Beck get back at Trina.
Beck, Robbie, and André play with puppets after fighting.
The 3 sit together during Sikowitz's class.
They high-five and agree that April Fools is for little kids.
They are all in the girl's bathroom together as the Wizard of Oz trio.
Robbie is the scarecrow, Beck is the tin man, and Andre is the cowardly lion, the 3 who help Dorothy.
Beck catches Robbie and André catches Beck after Cat punches Robbie.
Season 4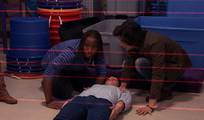 Beck and André slide Robbie down the hallways.
When Robbie is being held by the Triplet Twins, he calls for Beck and André to come and save him, which they do immediately.
They all help in Tinkle Aid.
They all go to Karaoke Dokie and work on Tinkle Aid.
When Robbie is about to get his phone from the box, Beck and André stop him from getting his phone, and tell him that it is a trick from the girls, so they would win the bet.
The three are on the same team.
Episodes with a Rodreck Plot/Subplot
Gallery
Ad blocker interference detected!
Wikia is a free-to-use site that makes money from advertising. We have a modified experience for viewers using ad blockers

Wikia is not accessible if you've made further modifications. Remove the custom ad blocker rule(s) and the page will load as expected.