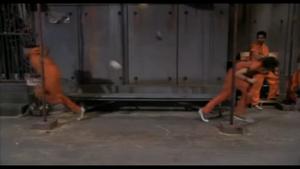 Rocks is a dangerous game that the prisoners of Yerba insisted on playing in Locked Up. By the looks of it, the point of Rocks is to throw large rocks at other people.
When the prisoners threw rocks at Beck and André, André yelled "We told y'all we didn't wanna play Rocks!", implying that the prisoners asked if they wanted to play Rocks, but don't always listen to the other 'players'.
When the lady prisoners asked Tori if she wanted to play Rocks, Tori said "Uh.. okay," not knowing what Rocks was. It is possible that Tori got hurt playing Rocks with the prisoners.
"Sing the next line!"
This article is a stub. You can help the Victorious Wiki By expanding it.
Ad blocker interference detected!
Wikia is a free-to-use site that makes money from advertising. We have a modified experience for viewers using ad blockers

Wikia is not accessible if you've made further modifications. Remove the custom ad blocker rule(s) and the page will load as expected.