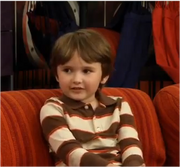 Quinn is a little boy Jade West interviewed in Jade with Tots, one of her videos on TheSlap. He wants to be a diver when he grows up so that he can go underwater and see sea creatures. He explains to Jade that he has $4 and wants to use it to buy a Batman Game. At the end of the video, he gets scared of Jade and says he wants his mom, so Jade has to cut the video.
"Sing the next line!"
This article is a stub. You can help the Victorious Wiki By expanding it.
Ad blocker interference detected!
Wikia is a free-to-use site that makes money from advertising. We have a modified experience for viewers using ad blockers

Wikia is not accessible if you've made further modifications. Remove the custom ad blocker rule(s) and the page will load as expected.