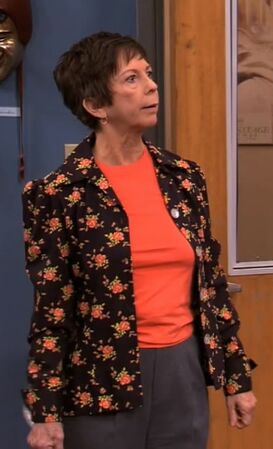 Mrs. Sikowitz is the mother of Erwin Sikowitz. She only made one brief appearance in The Diddly-Bops.
In the episode, Sikowitz had accidentally taken her purse to Hollywood Arts, and she had accidentally taken his bag of a dozen bagels. She comes to the classroom to switch back, and when Sikowitz apologizes for the mix-up, she tells him to "pull [his] head out of [his] pants!" Sikowitz yells "Bye, mom!" as she leaves. Then Tori asks him if she was his mother, Sikowitz says no, but then he begins banging his head lightly against the whiteboard, making sobbing noises.
Sikowitz mentions on TheSlap that his mom packs his lunches for him and she tells people that he's dead.
Ad blocker interference detected!
Wikia is a free-to-use site that makes money from advertising. We have a modified experience for viewers using ad blockers

Wikia is not accessible if you've made further modifications. Remove the custom ad blocker rule(s) and the page will load as expected.