Mr. Drysdale
General Information
Gender:
Male
Age:
Unknown
Hair Color:
Black
Eye Color:
Brown
Occupation(s):
Neighbor
Family & Friends
Family:
Wife
Relationships:
Tori (Neighbor)
Series Information
First appearance:
April Fools Blank
Last appearance:
April Fools Blank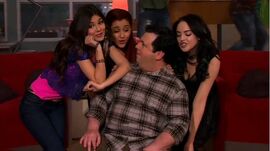 Mr. Drysdale is Tori and Trina's neighbor. His only appearance is in April Fools' Blank, in which he comes to Tori's house to ask for advice. His wife says that he "talks too much" and "never dances" so Tori, Trina, Robbie, Cat, and Jade sing Shut Up N' Dance to him. Due to the song, he eventually does dance, although not very well, with the gang.
"Sing the next line!"
This article is a stub. You can help the Victorious Wiki By expanding it.
Ad blocker interference detected!
Wikia is a free-to-use site that makes money from advertising. We have a modified experience for viewers using ad blockers

Wikia is not accessible if you've made further modifications. Remove the custom ad blocker rule(s) and the page will load as expected.