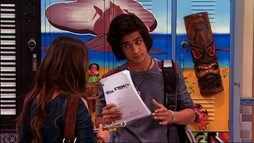 Miss Fire is the movie that Beck Oliver was hired as a waiter in Beck's Big Break. It is about a woman cop, played by Melinda Murray, who is fired and goes on an angry rage.
Info
Cat Valentine, Tori Vega, Jade West, and André Harris played extras. The logo looks like plain black letters spelling Miss and letters on fire spelling FIRE.
The subsequent recast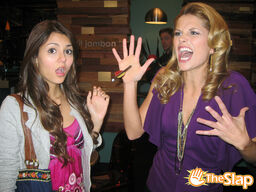 Tori attempted to tell Melinda that she wanted Beck to have his role back, but Murray yelled at her "Get out!" Unfortunately, this was meant to be a cue for a stagehand to fire a dart at the wall, and it went through Murray's hand. As a result, she could no longer play the part and had to quit the movie. Beck got his job back, and Tori, alias Crystal Waters, was praised because everyone hated Melinda Murray.
"Sing the next line!"
This article is a stub. You can help the Victorious Wiki By expanding it.