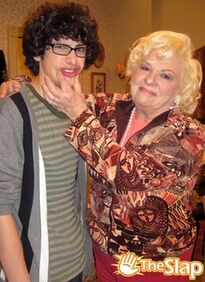 Mamaw Shapiro is Robbie's grandmother, who has a problem using her new computer. She lives with her husband Maury and only appeared in the episode The Birthweek Song. She is shown to be a complaining individual, and her conversations with her husband are most often negative. When she meets Cat, who she does not seem to like, she gets annoyed and asks Robbie if they're dating. She tries to hook him up with another girl, Brenda. She seems to not be very tech savvy. In fact, she knows extremely little about technology. Her real name is Sylvia. She is portrayed by Renée Taylor.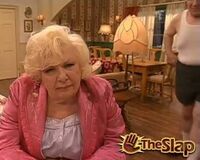 Trivia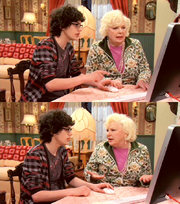 She lives in apartment number 327.
Her screen name on video chat is Mammaw327.
Her personality is very similar to Sylvia Fine's personality (another role played by Taylor) from the 90's sitcom The Nanny.
Mamaw hates Cat because she does not like the fact that she dyed her hair red, as she thinks no girl would dye her hair that colour unless she had psychological problems.
In How Trina Got In, Robbie mentioned that the skin on her feet is so thick, you have to use both hands to rub each foot. Robbie made Tori massage his Mamaw's left foot because she was in a lot of pain.
She has a husband named Morty just like when she was in the 1990's sitcom The Nanny.
"Sing the next line!"
This article is a stub. You can help the Victorious Wiki By expanding it.