Madame McKee
General Information
Gender:
Female
Hair Color:
Black
Occupation(s):
Dance Teacher at Hollywood Arts
Series Information
First appearance:
The Bird Scene
Last appearance:
The Bird Scene
Portrayed By:
Elena Evangelo
Madame McKee is the ballet teacher at Hollywood Arts. Her only appearance so far was in The Bird Scene. The name McKee is Irish and she has a French accent, but it is based that she is Irish-French nationality.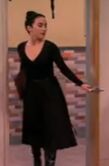 Robbie and André joined Madame McKee's ballet class to meet girls, but many other boys did the same, so the two were stuck in a ballet class with all boys. André and Robbie couldn't quit because McKee would've given them a zero for the class. A girl finally showed up, and all the boys tried to impress her. The boys were partnered up to dance. When Robbie and André danced, they injured themselves in the groin, and asked for a break, walking in an awkward way for the rest of the episode. Madame McKee seems to felt sorry for them. The ballet class is never mentioned again after that, and neither is Madame McKee.
"Sing the next line!"
This article is a stub. You can help the Victorious Wiki By expanding it.