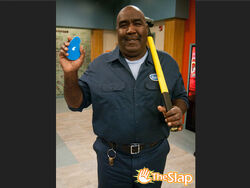 Luther is one of the janitors at Hollywood Arts. He appeared in The Worst Couple. Sinjin and him are buddies and Luther texts Sinjin whenever he finds 'weird chiz' in the garbage.
In The Worst Couple, Lane walked in on Luther whilst he was holding a wrench and some rope, in the same closet Cat had fainted in, and shook his head, saying "Oh Luther, why?", probably thinking that he knocked her out with the wrench and was planning to tie her up with the rope. Luther appears to have gotten out of the situation, as Cat was seen at Tori's house in the next scene and Luther himself appears at the end of the episode, holding the new PearPhone XT (he owns a blue one, With unlimited texting).
Gallery
"Sing the next line!"
This article is a stub. You can help the Victorious Wiki By expanding it.
Ad blocker interference detected!
Wikia is a free-to-use site that makes money from advertising. We have a modified experience for viewers using ad blockers

Wikia is not accessible if you've made further modifications. Remove the custom ad blocker rule(s) and the page will load as expected.