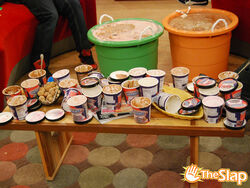 Lichter's Ice Cream is the ice cream company that held the Private Concert contest by Ke$ha in Ice Cream for Ke$ha. It appears to be a popular ice cream brand and is only mentioned in that episode.
Known Flavors
Funky Nut Blast (Least Popular Flavor)
Beach Bunny Blitz
Blueberry Pecan
Creamy Cowboy Crunch
Trivia
It is possible that this is a parody of the ice cream brands Ben & Jerry's, Edy's.
Lichter's seems to have similar flavors to Ben and Jerry's.
The least popular flavor of Lichter's is Funky Nut Blast, however, Cat's brother loves Funky Nut Blast, possibly because he is "different."
Ice Cream for Ke$ha is the first and only appearance of the brand.
"Sing the next line!"
This article is a stub. You can help the Victorious Wiki By expanding it.
Ad blocker interference detected!
Wikia is a free-to-use site that makes money from advertising. We have a modified experience for viewers using ad blockers

Wikia is not accessible if you've made further modifications. Remove the custom ad blocker rule(s) and the page will load as expected.