Kesha
General Information
Gender:
Female
Age:
31
Hair Color:
Blonde
Eye Color:
Blue
Birthday:
1st March 1987
Height:
175cm (5'9")
Occupation(s):
Singer and Songwriter
Family & Friends
Family:
Lagan (Brother)

Pebe (Mother)

Enemies:
Trina Vega
Series Information
First appearance:
Ice Cream for Ke$ha
Last appearance:
Ice Cream for Ke$ha
Portrayed By:
Ke$ha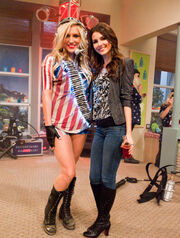 Ke$ha (portrayed by herself) guest stars in "Ice Cream for Ke$ha", where she sings her song, "Blow", at a concert in Tori's house that Tori and the gang win tickets to in a contest. The kid who gave Tori and her friends the "$" for the contest is played by Ke$ha's little brother.
In her appearance, Ke$ha plays a somewhat fictionalized version of herself (such as a scene where she acts in a general sell-out star personality). She seems to be scared or annoyed with Trina like everybody else.
Songs in the show
"Sing the next line!"
This article is a stub. You can help the Victorious Wiki By expanding it.
v • e • d

Victorious Cast