The Janitor's Closet is a room at Hollywood Arts that appears in numerous episodes, normally when the students need to talk privately. It is known that the Cranky Janitor sleeps there. Another janitor, Luther the Janitor, keeps his equipment there.
Appearances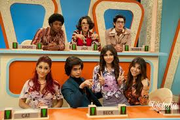 Trivia
The Janitor's Closet is used most often for fights, trying to resolve problems in private, and telling other people secrets.
According to Beck, the closet is a bad place to hide for Jade when she is very angry.
There is a slight error to how the door locks since in schools doors don't have turn locks as shown in The Great Ping Pong Scam but instead use locks with key holes on both sides of the doors.
According to the episode The Breakfast Bunch there is a ladder in the Janitor's Closet that is a secret passage way to the library, this passage is also shown in The Worst Couple, and Tori Fixes Beck and Jade.
Gallery
Ad blocker interference detected!
Wikia is a free-to-use site that makes money from advertising. We have a modified experience for viewers using ad blockers

Wikia is not accessible if you've made further modifications. Remove the custom ad blocker rule(s) and the page will load as expected.