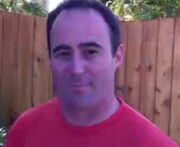 Jacob "Jake" Farrow is the voice of Rex Powers, Robbie Shapiro's puppet. However, as stated by Ariana Grande[1], he is not credited for this. He helps Dan Schneider write episodes of Victorious and iCarly and has acted in several Schneider's Bakery productions. Jake can be seen in various Dan Schneider videos on Youtube.
Episodes Written
Season One
Season Two
Season Three
Trivia
References
"Sing the next line!"
This article is a stub. You can help the Victorious Wiki By expanding it.
Ad blocker interference detected!
Wikia is a free-to-use site that makes money from advertising. We have a modified experience for viewers using ad blockers

Wikia is not accessible if you've made further modifications. Remove the custom ad blocker rule(s) and the page will load as expected.