Ian
General Information
Gender:
Male
Hair Color:
Light Brown
Family & Friends
Friends:
Tori Vega
Other Information
Education:
Sherwood High School
Series Information
First appearance:
Pilot
Last appearance:
Pilot
Portrayed By:
Ellington Ratliff
Ian is the boy who helped Tori with her moldbush science project at the beginning of the Pilot episode. He was one of her lab partners in her classes at Sherwood High School. It seems that they were doing a experiment on the moldbush to see how they smelt and felt. He was not seen again after Tori's transfer to Hollywood Arts High School.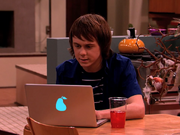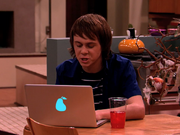 Ian and Tori were working on their project, but Trina interrupted them. Tori was very upset, insisting that she and Ian needed to finish their project. Ian left after that, and they did not complete their project. He is a student at Sherwood High School. He is portrayed by Ellington Ratliff. 
"Sing the next line!"
This article is a stub. You can help the Victorious Wiki By expanding it.

Ellington Ratliff, R5 Wiki[1]
Ad blocker interference detected!
Wikia is a free-to-use site that makes money from advertising. We have a modified experience for viewers using ad blockers

Wikia is not accessible if you've made further modifications. Remove the custom ad blocker rule(s) and the page will load as expected.