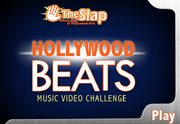 Hollywood Beats is the very first game on TheSlap. It is played with the A, S, D, and F keys on the computer keyboard. To play the game, the player must select the song they wish to play and as the music video is playing, bars will drop down in different columns on the screen to indicate which key to press. The player must press the key(s) shown at the correct time. The player will receive more points for hitting the key closer to the target. It is much like the game Dance Dance Revolution, except is played with a computer keyboard.
The songs which can be played are Make It Shine, You're The Reason, and Finally Falling.
Click here to play!
The sequel to this game is Hollywood Beats 2.
"Sing the next line!"
This article is a stub. You can help the Victorious Wiki By expanding it.
Ad blocker interference detected!
Wikia is a free-to-use site that makes money from advertising. We have a modified experience for viewers using ad blockers

Wikia is not accessible if you've made further modifications. Remove the custom ad blocker rule(s) and the page will load as expected.