This page provides a description and link to all of the Victorious gang's re-auditions to Hollywood Arts High School for Helen to let them stay in Hollywood Arts or kick them out in the episode Helen Back Again. The re-auditions were meant to fit 90 seconds time slots.
Tori and André's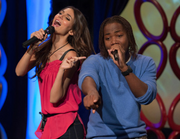 Tori
and
André
sing a remix of
Make It Shine
. To view it,
click here
.
Jade's
Jade
creates a short film in which she plays a girl sitting in a bathtub, playing with a jack-in-the-box. She looks possessed, and the jack-in-the-box has glowing red eyes when observed closely. To view her audition,
click here
.
Quotes
Boy: Why are you doing that?
Jade: Because you're bad.
Boy: I hate you!
Jade: I love you!
Boy: I hate you!
Jade: I love you!
Trivia
Tori said on TheSlap.com that Jade had to pay for the little boy's therapy sessions.
This film was written, directed, and starred by Jade West.
Cat's
Cat
performs a five-minute routine in 90 seconds which includes a dialogue, juggling, and singing a song from her favorite musical. To view it,
click here
.
Trivia
Ariana Grande does not actually do the juggling. She puts on the helmet and is substituted with Olga Kay as the stunt double.
Beck's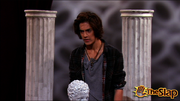 Beck
performs a dramatic monologue and
Helen
is moved to tears. However, she seems to care even more about his hair. To view it,
click here
.
Trivia
Helen seems to admire Beck for his appearance more than his talent. This is similar to how she acted around Drake in Drake & Josh.
Robbie's
Robbie
performs some stand-up comedy and
Rex
teases him. To view it,
click here
.
Trina's
Trina
is the only one of the gang whose audition does not pass. She sings a song she wrote herself,
You Haven't Seen the Best of Me
off-key, and dances while a fan blows behind her. To view it,
click here.
The Mix-Up
Helen's assistant made a mistake by mixing the Vegas; Trina got accepted instead of Tori, whereas Tori was the one to actually get accepted. Tori found out about the mix up but she didn't want to break the news to Trina. She sorted out a plan with her friends to make Trina 'save' Helen, knowing that Trina loves Karate.
Ad blocker interference detected!
Wikia is a free-to-use site that makes money from advertising. We have a modified experience for viewers using ad blockers

Wikia is not accessible if you've made further modifications. Remove the custom ad blocker rule(s) and the page will load as expected.