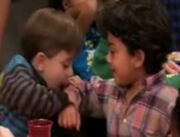 Henry is the birthday boy who turns four years old in the episode The Diddly-Bops. Henry is Sikowitz's college roommate's son. Sikowitz describes him as "a cute little cannibal" after he caught him biting another kid. Henry is a fan of the Wagafuffles and wanted them to perform at his birthday party. Instead, Tori, André, Cat, Robbie, Beck, and Jade performed for money at his party. Henry asked them to sing a song about dinosaurs, indicating that he likes dinosaurs, or he could just be a kid who blurts out cute things.
"Sing the next line!"
This article is a stub. You can help the Victorious Wiki By expanding it.