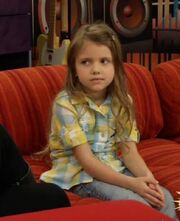 Hannah is a girl who attends the preschool across the street from Hollywood Arts. Jade interviewed her in her video segment on TheSlap, Jade with Tots #3, which is her only appearance. Hannah likes candy and television, and she thinks that Jade is weird. After interviewing her, Jade eventually said she has "had enough" of Hannah.
"Sing the next line!"
This article is a stub. You can help the Victorious Wiki By expanding it.