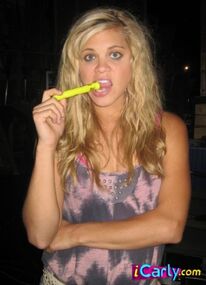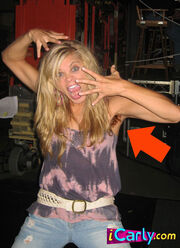 Ginger Fox is a parody of pop singer Britney Spears. She is only mentioned once in Victorious, in her music video. This was when Hayley Ferguson and Tara Ganz sang two of her songs, (My World and Hate Me, Love Me) at Karaoke Dokie in the episode in Freak the Freak Out. Also, Sikowitz sang her song, Number One at he end of the episode. She is portrayed by Betsy Rue.
She is from iCarly.
She did appear on iCarly in iFix A Popstar, however she did not make an appearance in Victorious.
She is slightly insane and she has an ex-husband and a baby son. She throws forks at people when she's mad at them.
Trivia
Songs
Solos
People That Sing Her Songs