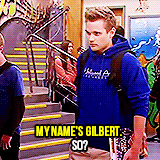 Gilbert is a boy who was paid by Tori to asked out Jade. He appears in the episode Tori Fixes Beck and Jade. After he went to Jade's locker he talked to her but than she scared him away. He is portrayed by Cameron Jebo.
"Sing the next line!"
This article is a stub. You can help the Victorious Wiki By expanding it.