Drake Bell
is an American actor and singer. He makes an appearance in the
Victorious
episode,
April Fools' Blank
, The episode s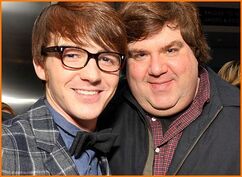 tarts off normal enough in Sikowitz's classroom. Tori tries to prank the clas
s with a fake stub of her arm, but the class yawns it off. They don't really participate in April Fools Day. Cat uncharacteristically yells at Tori to shut up and let Mr. Belding (yes, THAT one) teach. He teachers for a bit…and knocks Tori down and steals her purse. Then there's a goat on stage.
And Robbie floats away in the sky. And Drake Bell comes by and help Tori up after she falls from her chair due to Cat's trumpet playing. And Sikowitz explodes. He picks up
Tori
after she falls off her chair, and then he runs awa
y. When Drake Bell runs in and "saves" Tori, Sikowitz asks, "Was that the Bell? He starred in
Dan Schneider
's older show
Drake & Josh
along with Josh Peck, his real-life best friend. It was seen when April Fools' Blank aired, his scene was cut off.
"Sing the next line!"
This article is a stub. You can help the Victorious Wiki By expanding it.
Ad blocker interference detected!
Wikia is a free-to-use site that makes money from advertising. We have a modified experience for viewers using ad blockers

Wikia is not accessible if you've made further modifications. Remove the custom ad blocker rule(s) and the page will load as expected.