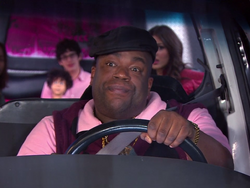 Dr. Rhapsody is a nineties rapper who wrote the hit song called Five Fingaz to the Face, which was featured in the episodes Tori the Zombie and Driving Tori Crazy. His only appearance is in Driving Tori Crazy, in which he serves as the driver of the party bus that takes Tori and her friends to school. It is revealed that Five Fingaz to the Face was his only hit, and that his wife took all the money in their divorce settlement when they got divorced, which is why he is now driving a party bus. He is parody of Sir Mix-a-Lot but his name may be a parody of Dr. Dre.
Songs
Solos in a Group Number
Gallery
Ad blocker interference detected!
Wikia is a free-to-use site that makes money from advertising. We have a modified experience for viewers using ad blockers

Wikia is not accessible if you've made further modifications. Remove the custom ad blocker rule(s) and the page will load as expected.