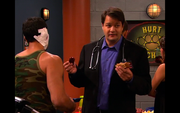 Doctor Doty is the doctor of the Vega family. He is mentioned in Tori the Zombie and Freak the Freak Out. Trina was talking to him about removing Grizzly Glue in Tori's face during Tori the Zombie, and Tori talked to him about Trina's mouth surgery in Freak the Freak Out. He is seen in an iCarly episode (iLook Alike), where he told a MMA fighter that he would sew his ear back on, so he possibly lives or lived in Seattle. He seems to be the Vega family doctor.
"Sing the next line!"
This article is a stub. You can help the Victorious Wiki By expanding it.
Ad blocker interference detected!
Wikia is a free-to-use site that makes money from advertising. We have a modified experience for viewers using ad blockers

Wikia is not accessible if you've made further modifications. Remove the custom ad blocker rule(s) and the page will load as expected.