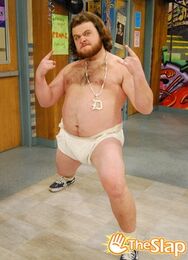 Doug the Diaper Guy only appears in the episode Prom Wrecker. His "thing" is that he sings, dances, and pees his pants. He walks into the school to confront Tori and Jade which grosses out Tori with his baby diaper. Prom Wrecker was his first and only episode in which he has appeared.
Jade hired him to ruin Tori's prom.
He won prom royalty, with Jade West as his queen, because Tori announced them as the winners to get rid of them.
Doug is portrayed by Tyler Anderson.
Photo Gallery:
"Sing the next line!"
This article is a stub. You can help the Victorious Wiki By expanding it.
Ad blocker interference detected!
Wikia is a free-to-use site that makes money from advertising. We have a modified experience for viewers using ad blockers

Wikia is not accessible if you've made further modifications. Remove the custom ad blocker rule(s) and the page will load as expected.