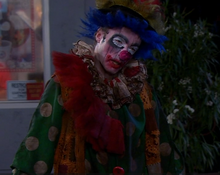 Crazy clown appears in the episode "Car, Rain & Fire". He was seen walking up to Cat, Jade, and Tori when they were trying to put up the roof to the car. He asks if he can have a ride to their house, in which they jump back into the car and drive off.
"Sing the next line!"
This article is a stub. You can help the Victorious Wiki By expanding it.