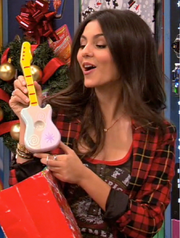 Color Me Pot was mentioned in the episode A Christmas Tori by Tori. She said that she made a small ceramic guitar for André as his Christmas present, but Trina thought it wasn't good enough. Color Me Pot is a parody of Color Me Mine.
It was also mentioned in Dan Schneider's other show, iCarly (in the episode iWin A Date). It is the place that Freddie and his mom, Marissa, used to go before he joined iCarly.
"Sing the next line!"
This article is a stub. You can help the Victorious Wiki By expanding it.
Ad blocker interference detected!
Wikia is a free-to-use site that makes money from advertising. We have a modified experience for viewers using ad blockers

Wikia is not accessible if you've made further modifications. Remove the custom ad blocker rule(s) and the page will load as expected.