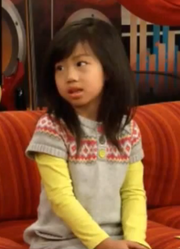 Clarissa "Scooter" is a little girl that Jade interviews in Jade with Tots. She attends the preschool next to Hollywood Arts. When Clarissa tells Jade her name, Jade decides to call her Scooter. Clarissa says she is okay with this, but according to Jade she doesn't really have a choice.
Clarissa enjoys artwork, and during her interview she shows Jade some pictures she's drawn. She drew a picture of a standing camel, her dad, and "a tree, some pretty flowers, and sunshine." When Jade sees the picture of Marissa's dad, she proceeds to tell her all about her dad. Throughout the interview, Clarissa stares at Jade like she's very weird. Jade insults Clarissa's artwork and tells her she should showcase it on a website called www.scootersterribleartwork.com.
Scooter's Artwork Gallery
"Sing the next line!"
This article is a stub. You can help the Victorious Wiki By expanding it.
Ad blocker interference detected!
Wikia is a free-to-use site that makes money from advertising. We have a modified experience for viewers using ad blockers

Wikia is not accessible if you've made further modifications. Remove the custom ad blocker rule(s) and the page will load as expected.