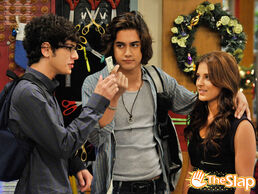 Christy Vicaris is a teenage girl and Robbie's childhood bully. Beck finds her and brings her to Hollywood Arts as Robbie's Christmas present. She used to beat Robbie up when he was seven. Robbie always wanted one chance to tell her off and have payback. Beck was Robbie's Secret Santa, so in attempt to give Robbie the best gift he brought Christy to Hollywood Arts so Robbie could stand up to her. However even though Robbie refers to her as a "beefy little witch," he finds that her looks have changed, and she is now "hot." She ends up going for coffee with Robbie. She only appears in A Christmas Tori. It is the same girl mentioned in Tori Gets Stuck who whipped Robbie with her braids and made him swallow his toy car that almost killed Robbie. She might have apologized to Robbie about what happened seven years ago.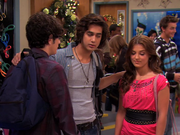 Ad blocker interference detected!
Wikia is a free-to-use site that makes money from advertising. We have a modified experience for viewers using ad blockers

Wikia is not accessible if you've made further modifications. Remove the custom ad blocker rule(s) and the page will load as expected.