Catorina



Shipped Characters

Ship Type

Tri-Pairing

Ship Status

Friends
Catorina is the tri-pairing between Cat Valentine, Tori Vega, and Trina Vega (Ca/t, T/or/i, and Tr/ina) The individual pairings are Cori, Torina, and Catrina.
Catorina Moments
Season 1
Cat breaks up the fight between Tori and Trina.
Cat, Tori, and Trina have two phone conversations.
Cat and Trina drive to Bakersfield to get the solvent for Tori.
Cat and Trina remove the zombie makeup from Tori's face.
Cat and Trina get ice cream from Freezy Queen for Tori.
Cat and Trina call the maker of Grizzly Glue and a doctor, respectively, in order to get some information on how to remove the zombie makeup off Tori's face.
Tori and Trina give Cat a hug after she lets the gang out of Beck's RV.
Season 2
Trina and Cat sit together and cheer for Tori's performance.
Cat and Trina both were worried about Tori.
Cat, Tori, and Trina stay up talking after Jade falls asleep.
Cat, Tori, and Trina perform closely in the song All I Want Is Everything.
Cat, Tori, and Trina strike a pose together.
Cat and Trina went behind the sheet to tell Tori that the chancellor of Yerba is going to be watching their performance.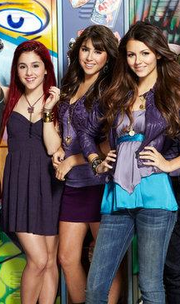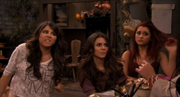 Cat and Tori are concerned about what happened to Trina.
Season 3
Cat offers Tori and Trina Christmas beef.
Tori asked both Trina and Cat for advice about André's gift, showing that Tori values both of their opinions.
Tori and Cat both act concerned about Trina after she returns from jogging in 10 inch heels and ask her what happened.
Cat and Trina both use Tori's underwear as a hankie.
They both comment that Tori's underwear are very big in size.
Season 4
The three are in the same team.
Episodes with a Catorina Plot/Subplot
Tori the Zombie - Cat and Trina go to Bakersfield together to get something that will get rid of the makeup glued to Tori's face.
Gallery