Catorina



Shipped Characters

Ship Type

Tri-Pairing

Ship Status

Friends
Catorina is the tri-pairing between Cat Valentine, Tori Vega, and Trina Vega (Ca/t, Tor/i, and Tr/ina) The individual pairings are Cori, Torina, and Catrina.
Catorina Moments
Season 1
Cat, Tori, and Trina have two phone conversations.
Cat and Trina drive to Bakersfield to get the solvent for Tori.
Cat and Trina remove the zombie makeup from Tori's face.
Cat and Trina get ice cream from Freezy Queen for Tori.
Cat and Trina call the maker of Grizzly Glue and a Dr. Doty, respectively, in order to get some information on how to remove the zombie makeup off Tori's face.
Tori and Trina give Cat a hug after she lets the gang out of Beck's RV.
Tori and Trina are the most worried about Cat.
Tori and Trina immediately call Cat's name when she opens the RV.
Season 2
Trina and Cat sit together and cheer for Tori's performance.
Cat and Trina both are worried about Tori.
Trina asks Jade about why she's wearing Tori's dress while Cat stares at Jade puzzled.
Cat, Tori, and Trina stay up talking after Jade falls asleep.
Cat, Tori, and Trina perform closely in the song All I Want Is Everything.
Cat, Tori, and Trina strike a pose together in the performance.
Cat and Trina go behind the sheet to tell Tori that the chancellor of Yerba is going to be watching their performance.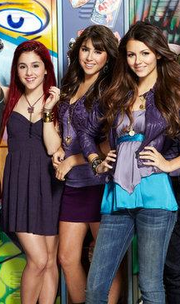 Cat and Tori are concerned about what happened to Trina.
Cat and Tori are both accused of hurting Trina.
Cat and Tori both deny not knowing of what happened to Trina.
Cat and Tori are both at Trina's play.
Cat is horrified when the accident takes place.
Season 3
Cat offers Tori and Trina Christmas beef.
Tori asked both Trina and Cat for advice about André's gift, showing that Tori values both of their opinions.
Tori and Cat both act concerned about Trina after she returns from jogging in 10 inch heels and ask her what happened.
Cat and Trina both use Tori's underwear as a hankie.
They both comment that Tori's underwear are very big and soft.
Season 4
The three are on the same team.
Trina and Tori look concerned when Cat gets hit in the face.
Trina and Tori are happy when Cat gets the answer correct.
They are all involved in the quest to gain more followers on The Slap.
Cat brings up that it's Tori's fault they started this whole war thanks to Trina.
Episodes with a Catorina Plot/Subplot
Tori the Zombie - Cat and Trina go to Bakersfield together to get something that will get rid of the makeup glued to Tori's face.
Gallery
Ad blocker interference detected!
Wikia is a free-to-use site that makes money from advertising. We have a modified experience for viewers using ad blockers

Wikia is not accessible if you've made further modifications. Remove the custom ad blocker rule(s) and the page will load as expected.