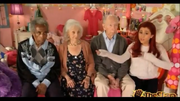 Cat Makes the Elderly Laugh is a video on TheSlap created by Cat. Cat tries to make old people from the nursing home laugh by imitating certain characters, while her brother tapes her. However, he seems to have trouble with keeping the camera focused on Cat. She talks to three people: Bill, Elaine, and Parnell. She tries imitating certain characters, but that doesn't work, so she reads out of a 20th Century Joke book. Nothing works, and the elderly people never laugh or talk. Cat has to end the video when her brother starts scratching, because the doctor told him not to.
"Sing the next line!"
This article is a stub. You can help the Victorious Wiki By expanding it.
Ad blocker interference detected!
Wikia is a free-to-use site that makes money from advertising. We have a modified experience for viewers using ad blockers

Wikia is not accessible if you've made further modifications. Remove the custom ad blocker rule(s) and the page will load as expected.