Cat's Leprechaun Search
Comments

5
807pages on
this wiki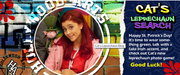 Cat's Leprechaun Search is a game on TheSlap made by Cat. She provides a picture that has eight leprechauns in it, and the objective of the game is to find where all of the leprechauns are.
Click here to go to the game page.
The content of the page is:
Hiiiii! It's me Cat! Since I love leprechauns AND St. Patrick's Day I thought I'd be all festive and PhotoDock some leprechauns into one of my favorite pics! Find all eight of the little green guys and have good luck for the rest of the day!

Added by

Cc71

P.S. I hope you're wearing green right now. If not....... Virtual Pinch! Ha! Bet you didn't see that coming!
"Sing the next line!"
This article is a stub. You can help the Victorious Wiki By expanding it.