Borandré



Shipped Characters

Ship Type

Tri-Pairing

Ship Status

Friends
Borandré (B/eck, T/or/i and André) is the tri-pairing between Beck Oliver, Tori Vega, and André Harris. Its individual pairings are Bori, Tandré, and Bendré.
Borandré can also be called Andoreck (And/ré, T/or/i, and B/eck), Tandreck (T/ori, Andr/é,and B/eck) and or Bendori (Be/ck, A/nd/ré, and T/ori).
Trivia
Beck and André are the two guys Tori hangs out with the most.
Tori has helped both of them with their romance problems with Jade.
Beck, André, and Tori are pretty normal, unlike the other characters.
They are Tori's best guy friends.
Moments
Season 1

Both Beck and Tori looked surprised/impressed about André's fight scene.
Beck and André explain stage-fighting to Tori.
André helps pull Tori off Russ, who she is attacking to "save" Beck.
Beck, André, and Tori are seen hanging out together at lunch.
André and Tori both ask Beck about him and Alyssa Vaughn.
André and Tori both look impressed when Beck drives up in Alyssa's car.
Tori does her project with Beck and André (as well as Cat).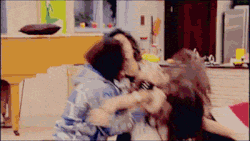 Beck and André keep Tori away from Jade.
Beck and André lift Tori out of the machine.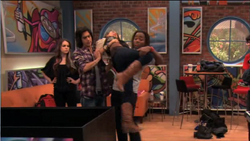 Season 2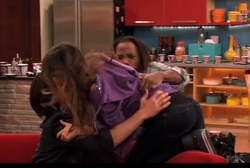 Beck and André keep Tori from hurting Robbie.
Beck helps André and Tori to find the letters to spell 'KE$HA' to help her win the concert and relieve her of her painful obligation to Trina.
André tells Tori that Beck is one of his best friends.
Tori helps André get over his crush, so he won't ruin his friendship with Beck.
Tori finds André's and Beck's costumes amusing.
Tori suggests that André and Beck go for help.
When André and Beck don't come back, Tori goes out looking for them, willingly.
Both André and Beck were mad that no one stopped Tori from leaving.
Season 3
André (and Robbie) both kiss Tori's cheek when she lets them go see Jade practice for the Platinum Music Awards, but Beck almost kissed Tori because he might have a crush on her.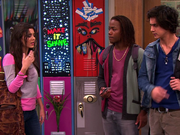 André and Beck both offer to drive Tori to school.
Beck and Andrè are both concerned when the see that Tori looks tired and awful.
André and Beck sit with Tori in between them on the couch and try to help her relax.
Tori grabs both André and Beck when she is freaked out by Ponnie.
Gallery
Ad blocker interference detected!
Wikia is a free-to-use site that makes money from advertising. We have a modified experience for viewers using ad blockers

Wikia is not accessible if you've made further modifications. Remove the custom ad blocker rule(s) and the page will load as expected.